Have you ever wondered what the ideal water temperature is for brewing that perfect cup of coffee?
Well, look no further! In this article, we will explore the importance of water temperature in the coffee brewing process and discover the sweet spot that will enhance the flavors and aromas of your favorite beans.
So grab your mug and dive into the fascinating world of coffee brewing temperatures.
Factors Affecting Coffee Extraction
Several factors can significantly affect the extraction process when brewing a delicious cup of coffee. These factors include coffee bean quality, grind size, and water quality. By understanding the impact of each factor, you can ensure you get the most out of your coffee brewing experience.
Coffee Bean Quality
The quality of the coffee beans you choose plays a significant role in the extraction process. High-quality beans roasted to perfection produce a more flavorful and balanced cup of coffee. On the other hand, low-quality beans may yield a weak and dull brew. When selecting your coffee beans, look for fresh, adequately roasted, and sourced from reputable growers.
Grind Size
The grind size of your coffee beans also plays a crucial role in the extraction process. Different brewing methods require different grind sizes to achieve optimal extraction. For example, a coarser grind is generally recommended for brewing methods such as the French press, while a finer grind is necessary for espresso. The size and consistency of the coffee grounds can significantly affect the flavor and strength of your coffee, so it's essential to invest in a good quality grinder and experiment with different grind sizes to find your desired taste.
Water Quality
Water may seem straightforward in your coffee brewing process, but its quality can significantly impact the final result. Ideally, you want water with the proper mineral content free from impurities. Hard water, which contains high levels of minerals such as calcium and magnesium, can negatively affect the taste and extraction of your coffee. On the other hand, water that is too soft may result in a weak and flat cup of coffee. Using filtered or bottled water is recommended to ensure the best possible taste and extraction.
Water Temperature and Coffee Extraction
The water temperature used for brewing coffee is perhaps one of the most critical factors affecting the extraction process. Water temperature can significantly influence the release of flavors and compounds from the coffee grounds, ultimately determining the taste and strength of your brew.
Importance of Water Temperature
Water temperature is crucial because it determines the coffee extract rate. If the water is too hot, it can over-extract the coffee, resulting in a bitter and burnt taste. Conversely, if the water is too cold, it can under-extract the coffee, leading to a weak and sour-tasting brew. Therefore, finding the proper water temperature is essential to achieving a well-balanced and flavorful cup of coffee.
Best Temperature Range for Brewing Coffee
For most brewing methods, a water temperature between 195°F and 205°F (90°C to 96°C) is considered ideal. Within this range, the water is hot enough to extract the flavors from the coffee grounds without scorching them. Different brewing methods may slightly vary the recommended temperature, but staying within this range will yield good results for most coffee enthusiasts.
Effects of Water Temperature on Flavor
The water temperature during brewing can significantly impact the flavor profile of your coffee. Understanding the effects of different water temperatures can help you fine-tune your brewing process to achieve your desired taste.
Under-Extracted Coffee
When the water temperature is too low, it can result in an under-extracted cup of coffee. This means that the flavors and compounds from the coffee grounds have not been fully extracted, resulting in a weak and sour taste. Under-extracted coffee can lack depth and complexity, leaving you with a less enjoyable drinking experience.
Over-Extracted Coffee
On the other hand, if the water temperature is too high, it can lead to over-extraction. Over-extracted coffee can taste bitter, astringent, and burnt. This occurs when the water extracts too much from the coffee grounds, including undesirable compounds contributing to a harsh and unpleasant flavor. Finding the right balance in water temperature is essential to avoid this undesirable outcome.
Recommended Water Temperature for Different Brewing Methods
Different brewing methods require different water temperatures to achieve optimal extraction and flavor. Here are some recommendations for water temperatures based on popular brewing methods:
Pour-Over
Pour-over brewing typically requires a water temperature between 195°F and 205°F (90°C to 96°C). This temperature range allows for a balanced extraction and brings out the desired flavors and aromas of the coffee.
French Press
For French press brewing, a slightly lower water temperature of around 195°F (90°C) is recommended. This lower temperature helps to prevent over-extraction, resulting in a smoother and less bitter cup of coffee.
Espresso
Espresso brewing requires a higher water temperature compared to other methods, usually around 200°F to 205°F (93°C to 96°C). The high pressure and short brewing time of espresso machines require hotter water to extract the flavors and oils from the coffee grounds fully.
Cold Brew
Cold brew is a unique brewing method that involves steeping coarsely ground coffee in cold water for an extended period. Cold brew typically does not require precise water temperature control as other methods do. However, it is recommended to use cold or room temperature water to avoid any unwanted extraction of flavors that may occur with hot water.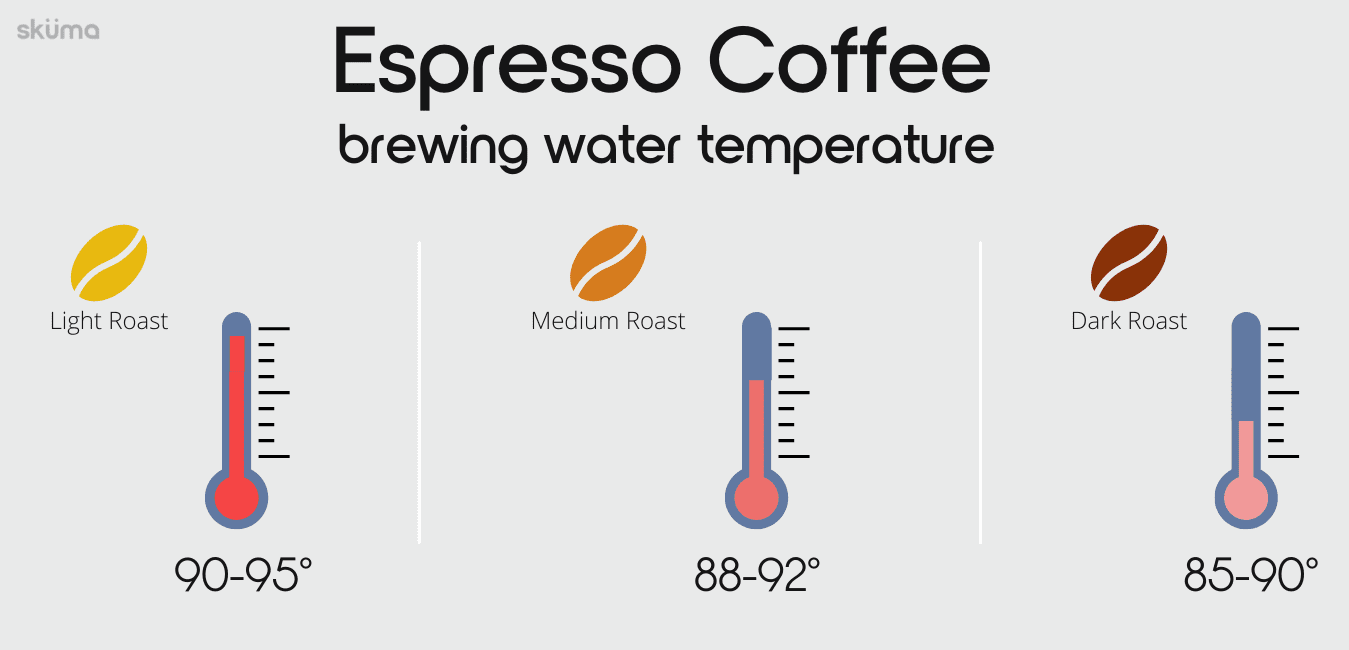 Adjusting Water Temperature
The proper water temperature for brewing coffee can be achieved through various methods. Here are some common ways to adjust and control the water temperature:
Using a Thermometer
A thermometer is one of the most accurate ways to measure water temperature. This allows you to precisely monitor the temperature and ensure it falls within the desired range. Insert the thermometer into the water and wait until it reaches the recommended temperature before brewing.
Boiling Water
If you don't have a thermometer, you can also use the boiling water method. Allow the water to come to a full boil, then let it sit for a moment to cool slightly. The water temperature will naturally decrease as it sits, allowing you to achieve a suitable brewing temperature.
Pre-heating Equipment
Another way to adjust water temperature is by pre-heating your equipment. By rinsing your brewing equipment, such as the coffee maker or French press, with hot water before use, you can help maintain the desired water temperature for a more extended time. This can be particularly useful for longer brew times, such as pour-over or French press.
Conclusion
The ideal water temperature for brewing coffee is essential to consider if you want to achieve a delicious and well-balanced cup. Coffee bean quality, grind size, and water quality also play significant roles in extraction. Still, water temperature is the critical element that determines your brew's final taste and strength.
By understanding the importance of water temperature, adjusting it according to the recommended range for different brewing methods, and experimenting to find your preferred taste, you can elevate your coffee brewing experience and enjoy a consistently flavorful cup of coffee every time.