We are still a young Startup from Germany, all about handmade coffee preparation.
It all started with our hand coffee grinder because the scent of freshly roasted coffee beans is one of the most beautiful things for us to start the day with.
Groenenberg Espresso Maker 200 ml
The traditional product meets modern design
It all started with this vision because even earlier on vacation in Italy, we always watched our parents in amazement when the steam and smell of freshly brewed coffee rose from the small Moka pot on the gas cooker.
We love coffee preparation with the Espresso Maker because it is a real experience.
Therefore it was our aim to offer you a contemporary version that meets today'-s' standards:
The Groenenberg Espresso Maker!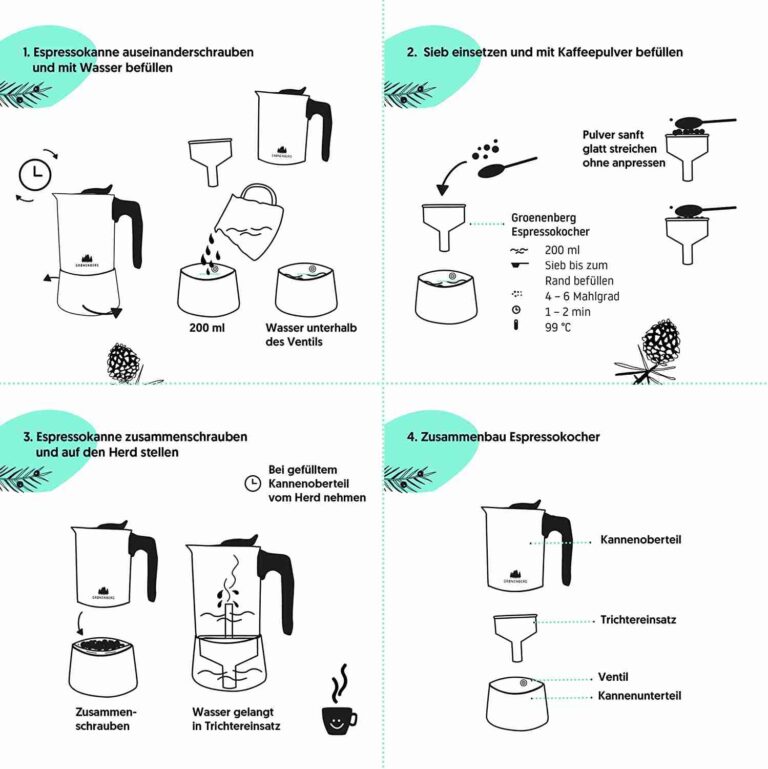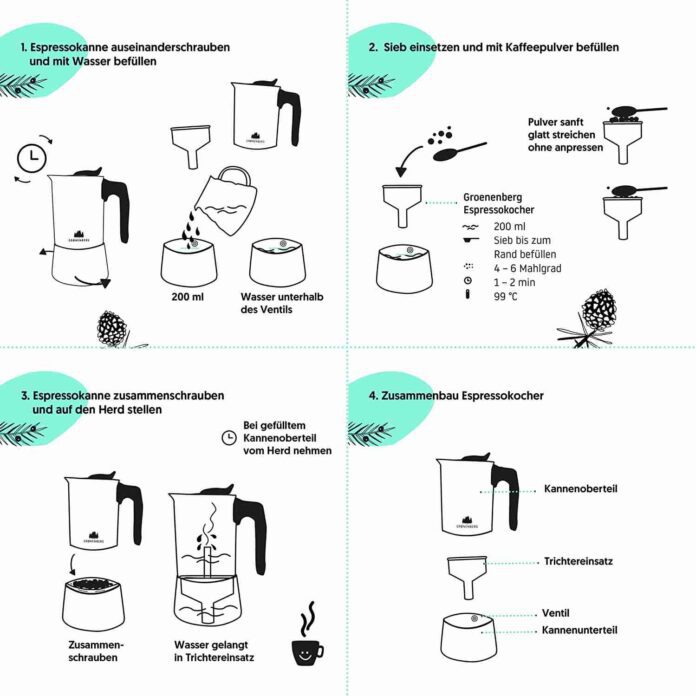 Read Next – Stove Top Espresso Maker
Unscrew espresso maker & fill
Unscrew the upper and lower part of the espresso cooker; take out the filling sieve and fill the lower tank with water up to the valve.
Our tip: heat the water before to prevent the pot's metal from warming up too fast, and your coffee tastes acerbic.
Read Next – Best Coffee Grinder Amazon For You in 2022
Insert sieve & fill with ground coffee
Put the sieve into the lower water tank of the espresso cooker and fill it up to the brim with freshly grounded coffee.
Smoothen the ground coffee gently with a spoon or finger, but do not press down tightly.
Read Next – Reasons to Choose the Smart Grinder Pro Coffee Maker
Easily screw together, cook & enjoy
Now screw the cooker back together and put it on the hob at medium temperature.
The water of the lower tank will heat up after a short time and enter the funnel.
You will now hear a slight bubbling and see how the fresh coffee rises through the riser pipe into the top part of the jug.
As soon as you hear a hiss, put the cooker from the hob, and your espresso is ready!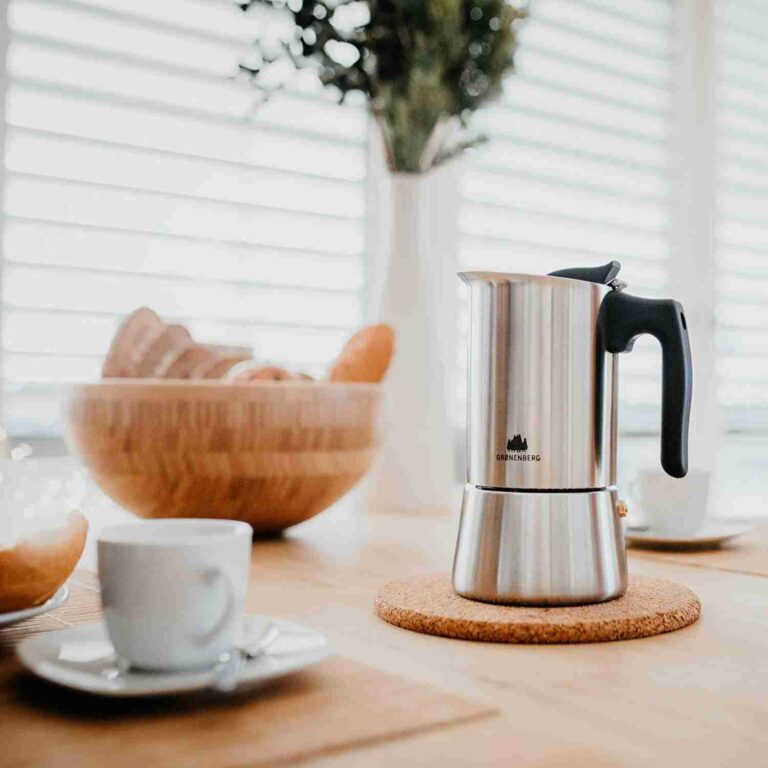 Read Next – Best Espresso Maker Moka Pot Our Top Picks
It is suitable for all types of cookers
Suitable for induction up to gas hobs: Our cooker is made from particularly heat-resistant 430 stainless steel and is suitable for all types of cookers, whether induction, gas, or camping stove.
100% aluminum-free: our stove jug, including the sieve insert, is completely free of aluminum and is made of stainless steel of the highest quality.
Easy to clean: your time is important to us, so our rust-proof mocha can be cleaned by hand or in the dishwasher in no time.
Includes replacement seal: an extra replacement sealing ring made of durable silicone ensures that you have long-lasting enjoyment with your cooker.
If you miss a part, our spare part service will help you.
Promise: If you are not satisfied with our high-quality espresso maker for any reason, you will receive your money within the first 30 days without if and but back.
Read next – Best Espresso Grinder Machine Our Top Picks
AEROPRESS Coffee and Espresso Maker - Quickly Makes Delicious Coffee Without Bitterness - 1 to 3 Cups Per Pressing
2 new from $39.95
1 used from $37.91
Free shipping
as of June 6, 2023 2:22 am
Stovetop Espresso Maker-Moka Pot: Italian Coffee Maker for Office, Home,Classic Cafe Percolator Maker(200ml/6.76oz/4 cup,espresso cup=50ml), Mini Size| For Couples|Stainless Steel, Gas
out of stock
as of June 6, 2023 2:22 am
Presto 02811 12-Cup Stainless Steel Coffee Maker
34 new from $61.19
21 used from $38.65
Free shipping
as of June 6, 2023 2:22 am
Wacaco Minipresso NS, Portable Espresso Machine, Compatible Nespresso Original Capsules and Compatibles, Hand Coffee Maker, Travel Gadgets, Manually Operated, Perfect for Camping
2 used from $49.95
Free shipping
as of June 6, 2023 2:22 am
Stovetop Espresso Maker RAINBEAN 6-Cup Espresso Cup Moka Pot Classic Cafe Maker Percolator Italian Coffee Maker Italian Espresso for Gas or Electric Aluminum Black Gift package with 2 cups
out of stock
as of June 6, 2023 2:22 am
FCUS Stovetop Espresso Maker, Moka Pot,100ml/3.3oz/2 Cup Percolator Italian Coffee Maker, Classic Cafe Maker, Stainless Steel, Suitable For Induction Cookers
out of stock
as of June 6, 2023 2:22 am
Read Next – How to use a stovetop espresso maker