This is a 150 pack of similar taste ESE coffee pods.
These are a very famous brand, Lavazza also renowned for being Italy's favorite espresso.
They're a little more costly than the products with a range of pod flavors.
Features Lavazza Paper Coffee Pods Gran Crema

This product is specially made to produce a coffee with much more crema.
Customer Feedback
Several customs said that there was a significant difference in the quality of these pods.
The smooth flow of coffee via the pod was mentioned many times.
Some users stated that this was the best out of several pods they had tested.
They preferred both the texture and taste of the espresso coffee produced.
A lot of people also praised the quick dispatch as well as delivery service from the brand.
Some of the negative reviewers said that their experience with the pods produced a much weaker espresso than other companies.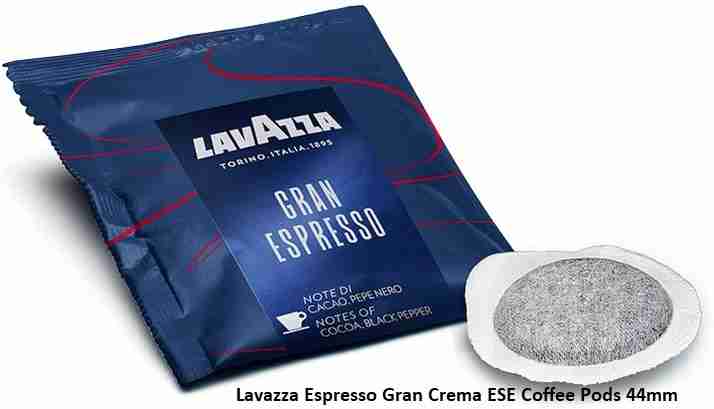 Read Next – Bialetti Rainbow Aluminium Stovetop Coffee Maker
Pros
Good service
More taste and creamy texture to the espresso coffee
Produce a coffee with massive crema
Cons
Some customers experienced a weaker coffee
More costly than the other company's pods
Read Next – Illy ESE Espresso Coffee Paper Pods
How to use an ESE Espresso Coffee Pod
Will every pod fit every coffee machine?
No, not, even NESPRESSO pods come in both Vertuo and standard verities, and they're not interchangeable – you've to use the right pod for your kind of machine.
Same, you cannot chop and change among different brands' pods; LAVAZZA'S A Modo Mio pods only work with their specially made coffee machines.
You can use 44 ESE coffee pods with any compatible espresso machine. Some will need you to alter the filter basket, while others need dedicated aftermarket kits to add ESE assist.
If you are not sure whether yours is compatible or not, check your machine's user manual guide before shelling out.
Read Next – Jacobs Barista Crema Intense Coffee Beans
Lavazza Espresso ESE Coffee Pods - Dark Roast (Gran Espresso Intenso, 150 Pods)
3 new from $60.00
Free shipping
as of September 29, 2023 10:57 am
Lavazza Gran Crema Espresso Pods
16 new from $59.99
Free shipping
as of September 29, 2023 10:57 am
Lavazza Gran Espresso Single-Serve Coffee Pods, Dark Espresso Roast, Pack of 150
9 new from $35.00
Free shipping
as of September 29, 2023 10:57 am
Lavazza Espresso Pt. Crema E Aroma, Espresso Capsules, Count of 100, Brown ,Value Pack, Blended and roasted in Italy, Intense medium roast with a strong body and long lasting flavor
11 new from $31.99
Free shipping
as of September 29, 2023 10:57 am
Lavazza Gran Filtro Single-Serve Coffee Pods, Dark Roast (Pack of 1,000)
out of stock
as of September 29, 2023 10:57 am
Lavazza Gran Espresso Intenso, Single Dose Pods (Pack of 150)
4 new from $62.95

as of September 29, 2023 10:57 am
Lavazza Super Crema Whole Bean Coffee Blend, Medium Espresso Roast, 2.2 Pound (Pack of 1) Authentic Italian, Blended And Roasted in Italy, Produced in a nut-free facility center, Mild and creamy
26 new from $23.50
Free shipping
as of September 29, 2023 10:57 am
Lavazza Grand Espresso Whole Bean Coffee, 2.2-lbs (Pack of 2)
3 new from $37.20

as of September 29, 2023 10:57 am