From rich, intense espresso to creamy cappuccinos, you can create your coffee recipes from home – Add some latte art for that finishing touch like a real barista.
FLEXIBILITY & PRACTICALITY Thanks to the Adjustable Cappuccino System and Double Drip Tray, the barista-at-home can now prepare Latte Macchiato, Caffelatte, Hot Milk, and Flat White on top of Espresso, Lungo, Cappuccino, and Tea.
De'Longhi Dedica Style EC685 Traditional Pump Espresso Machine
BREAKTHROUGH DESIGN Simple and contemporary shapes characterize the slimmest design in the market with only 15 cm width HIGH PERFORMANCE Electronically controlled temperature, customizable coffee length, machine ready to use within a few seconds, professional pump and filter holder.
PROFESSIONAL LOOK & FEEL Metal body, chrome finishing, and professional filter holder remind the traditional barista to prepare an espresso …
AND EVEN MORE STYLE Shiny metal, matt finishing touches, and the embossed logo on the drip tray give the unique Dedica design even more style.
Read Next – Latte Maker Review DeLonghi EC355
Coffee Shop
Create all your coffee shop favorites with the De'Longhi Dedica Style EC685 traditional pump machine.
De'Longhi Dedica Style Traditional Barista Pump Espresso Machine will deliver a real barista experience at home.
Enjoy your favorite coffee, whether a strong espresso or frothy cappuccino, all from your choice of fresh ground coffee.
It makes all coffee shop favorites

Steam arm to froth fresh milk for cappuccinos and lattes

Use your choice of ground coffee

Hot water delivery for americanos

Make two espressos at once

Double drip tray for mugs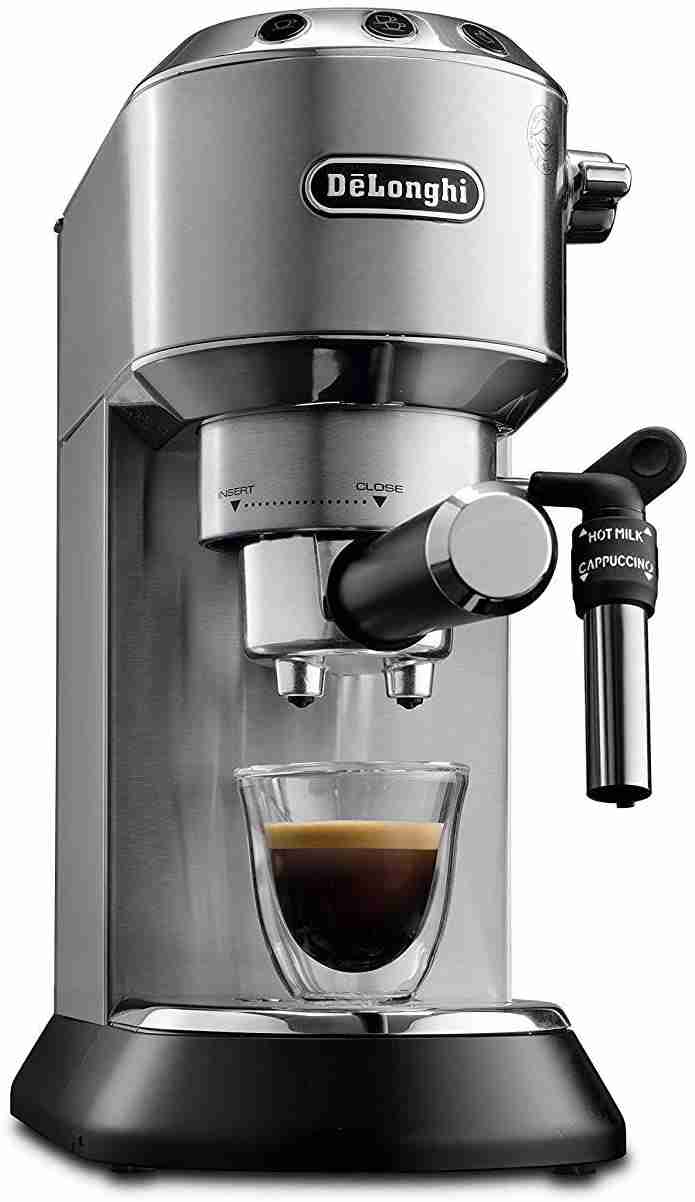 Read Next – Delonghi Dedica Black Friday
Barista Skills
Use freshly ground beans to enhance a rich coffee crema.
Plus, create silky smooth milk for latte art. Learn basic barista skills all with your De'Longhi traditional pump machine.
15 BAR PRESSURE to create your perfect espresso with a rich aroma and a nut colored cream on top
MILK FROTHER
Froth or steam milk with the Adjustable Cappuccino System to create frothy cappuccinos, macchiatos, or caffè lattes
Read Next – Delonghi Dedica Style EC685-R Caffee Machine
CUSTOMISE ESPRESSO
Thanks to professional barista technology, you can control every step of the Coffee-making process, from tamping your ground Coffee to setting the temperature and length.
HOME COMFORT
At only 15 cm wide yet, we are offering a small footprint and significant features.
EASY TO CLEAN
A manual descaling system will keep your machine running smoothly so you can always enjoy your favorite beverages.
Read Next – Swan Retro Pump Espresso Coffee Machine
De'LonghiDedica Pump Espresso Coffee Machine
Read Next – De'Longhi Dedica Espresso Machine Bundle